Some of the links in this post are affiliate links
It can be overwhelming to build a custom cloth diaper stash. Which type do I pick, do I need diaper covers, how many diapers and covers do I get, what about all the accessories? There's a lot to figure out, and so many options!
That's why I love cloth diaper kits. Most kits or bundles come with everything you need and you don't have to worry about figuring out how many of each diaper or cover to buy. Best of all, you can save a bundle by purchasing your whole stash as a kit instead of paying full retail price for each individual diaper.
I've rounded up a list of the best cloth diaper kits and starter kits available.
Best Cloth Diaper Kits:
Best For Newborns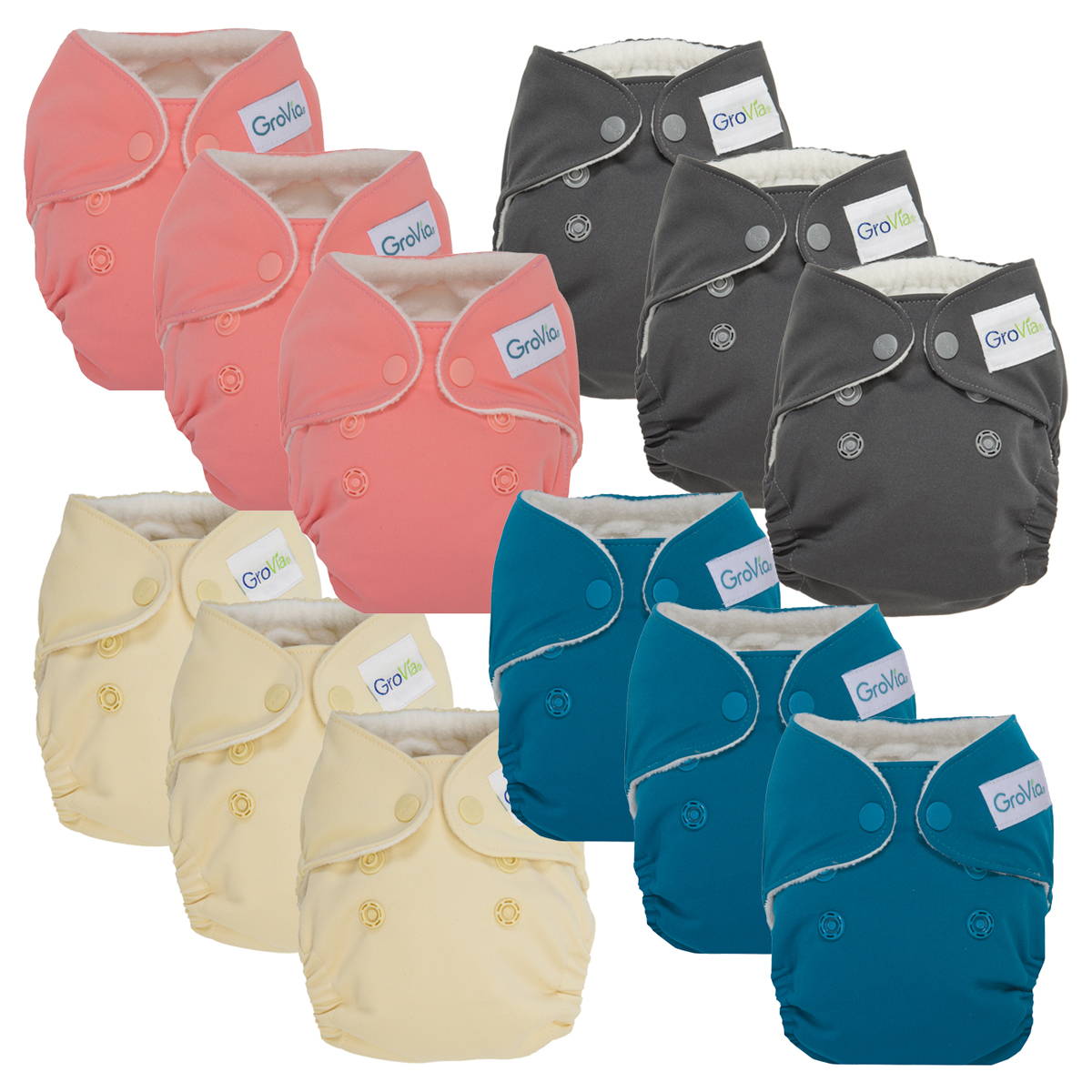 Grovia Newborn AIO: Grovia made their newborn AIO to fit babies 5-12 pounds. Most "One-Size" diapers are not designed to fit brand new babies. Because one-size diapers are made to fit babies up to 30 pounds there is a lot of excess fabric and bulk if you use them on newborns.
These Newborn AIO's are made specifically to fit around a newborn's tiny legs and waist ensuring a trim fit and eliminating bulk. They are also designed to protect umbilical cords so you don't have to worry about the baby's sensitive cord rubbing or getting irritated.
You can decide which bundle fits your budget. The more you buy, the more you save:
Buy 3-6: Save 5% | Buy 7-11: Save 7% | Buy 12+: Save 10%
Find it at Grovia here.
Best Budget Pick
Lil Bums Starter Kit: Pocket Diapers are typically the most budget-friendly option when it comes to cloth diapering, and these Lil Bums pockets are no exception. This package includes:
18 pocket diapers
18 bamboo inserts
18 hemp inserts
wet bag
large pail liner
With everything you need to cloth diaper full-time, this package is a great deal. You can find it on Amazon here.
Easiest To Wash & Dry
Osocozy Flats Economy Package: Flats are by far the easiest cloth diapers to get clean. You will never deal with build-up or stink issues using flats. They also dry super fast and are incredibly multi-purpose. You can use flats as burp cloths, nursing covers, blankets, changing mats, and when you are done diapering they make the best rags!
This package deal cost less than $100 and includes:
3 Dozen Unbleached OsoCozy Flat Diapers
4 OsoCozy One Size Diaper Covers
1 (3-pack) Snappi Diaper Fasteners in Coral, Gray, and Bamboo
Don't get intimidated by the need to fold flats, there are tons of great tutorials out there and you can simply fold them up into a "pad fold" and lay them in the cover if you don't want to deal with fancy folding techniques.
Find them here.
Best For Beginners
OsoCozy Prefolds With Thirsties Covers: This package deal is so nice because you save 20% and it comes with all the prefolds you will ever need and 8 of my favorite diaper covers, Thirsties Duo Wraps!
This kit includes:
36 OsoCozy Infant 4x8x4 Unbleached Prefolds (3 dozen)
24 OsoCozy Premium 4x8x4 Unbleached Prefolds (2 dozen)
4 Thirsties Duo Wrap Diaper Covers – Size 1
4 Thirsties Duo Wrap Diaper Covers – Size 2
1 Roll of OsoCozy Flushable Diaper Liners
Prefolds and Covers are one of the simplest cloth diapering systems to choose from. Check out my video below to learn how to use prefolds. It is so easy! I started out cloth diapering using prefolds and I still love them because of how simple they are and how easy they come clean in the wash.
Get it at clothdiaper.com here.
Most Customizable
Buttons Diaper Packs: Buttons diapers are an All-In-Two diapering system which means it comes with two parts, the waterproof outer shell, and the absorbent insert that snaps inside of the shell. This type of diaper is really great for getting the perfect absorbency and fit for your baby.
Buttons offer both daytime and nighttime inserts that are available in 3 different insert materials, hemp/cotton, microfiber, or bamboo. The inserts also come in different sizes allowing you to get the perfect fit as your baby grows.
The Deluxe Pack includes:
8 one-size diaper covers
24 daytime diaper inserts
2 nighttime doubler inserts
2 packs of velour wipes
1 wet bag
Find their package deals here.
Best For Heavy Wetters And Overnights
Cloth-eez Workhorse: Fitted cloth diapers are well known for being the best solution for a heavy wetter and for overnights. Cloth-eez brand diapers are well-known for their quality, durability, and rave reviews. Their fitted "workhorse" diapers are 100% cotton and are available in different sizes ensuring the perfect fit for your baby or toddler.
6 Workhorse Fitteds
2 Cloth-eez Diaper Covers
A 12-pack of muslin baby wipes
Check them out at Green Mountain Diapers here.
Best For Sensitive Skin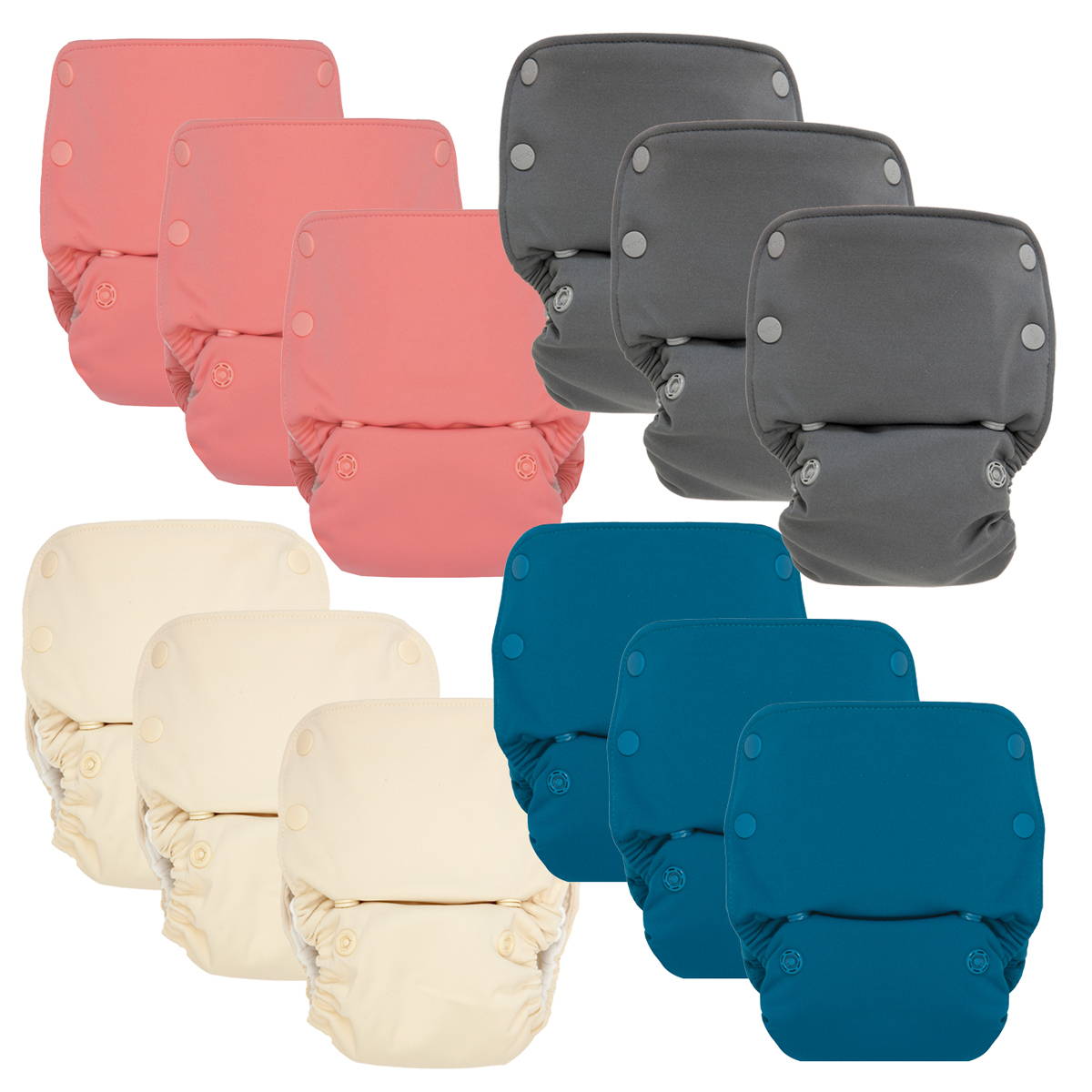 Grovia Organic All-In-One Bundle: These organic one-size AIO cloth diapers come in gorgeous colors that you can mix and match while saving up to 10% off. They are made with 100% certified organic cotton which is very gentle and soft on sensitive skin. These diapers are also very trim fitting. Check out the new "buttah" line which has a shimmery, pillowy soft outer layer.
I love that your can build your own custom bundle at Grovia to fit your budget:
Buy 3-6: Save 5% | Buy 7-11: Save 7% | Buy 12+: Save 10%
You can purchase them from Grovia here.