I am in the process of scouring the market for the best washing machines for cloth diapers. My current washing machine is decades older than I am, and as much as I love the old yellow Maytag, it's time for an upgrade. The old girl just doesn't get our cloth diapers clean anymore.
I thought this would be a great opportunity for me to share with you all my research and recommendations for the best washing machines for cloth diaper cleaning! I've contacted several appliance experts as well as cloth diaper manufacturers to get their professional opinions on what to look for in a washing machine that will be used to wash dirty diapers.
I also reached out to some great cloth diaper groups and asked real moms which machines work best, because lets face it, they are the true experts!
The best types of washing machines for cloth diapers are top loaders with agitators that allow you to set your desired water level. These machines do a superior job of getting diapers clean than front loaders or HE washers because of their strong mechanical washing action and adequate water level.
Best Washing Machines For Cloth Diapers
*Please take note* I have read over the specifications, manuals and guides of all the different models so be sure to take note of the model number that I list below the picture of the washer. If you choose a different model number please read the owners manual and guide because the features will be different. For example if you choose a different model it may only have auto-sensing and deep fill water levels that do not allow you to choose which water level you want.
Speed Queen TC5
My pick for THE #1 BEST washing machine for cloth diapers is the Speed Queen TC5.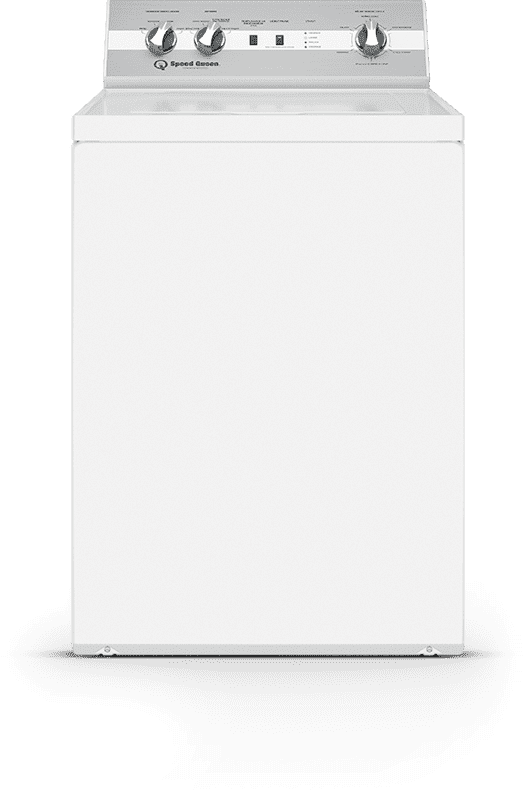 If you are looking for guaranteed success and no "troubleshooting wash routine" issues, the Speed Queen is the washer for you. This no frills machine is tried, true, and durable. It WILL get your cloth diapers clean. These washers are known for their longevity, lasting for many, many years without the headaches of errors and service calls that plague the owners of the more modern washers.
Speed Queens are very popular in the cloth diapering community and are also recommended by Karen, the owner of Green Mountain Diapers. Check out her free (with any purchase) How-To Wash Diapers Booklet. It is incredibly helpful for figuring out a good wash routine.
I reached out to Speed Queen and they told me the TC5 model is what they recommend for cloth diapers. This American made top-loader is their classic model and has an agitator, pre-soak, extra rinse, and deep fill options, all of which are very nice features to have for a cloth diaper wash routine.
Another nice feature of the TC5 is the no-lock lid. You can open the lid up at any time during the cycle and check to make sure your diapers are agitating properly and have enough water. This allows you to throw extra diapers or additional laundry into the wash at any point.
For more information about the history of the Speed Queen machines and a comparison between the TC5 and the newer "Perfect Wash" models check out this review. It'll give you a better understanding of why the Classic model is really best for diapers.
Agitator
Pre-Soak
Extra rinse
Deep fill (fills entire tub)
No-Lock lid
Stainless steel tub
Good reviews
Whirlpool Top Load Washer with Pretreat Station
The Whirlpool 4.7 Cu Ft Top Load Washer with Pretreat Station is an excellent cloth diaper washing machine. This made in U.SA. model also has an agitator and 4 different water levels to choose from which are the most important factors to look for in a washer for diapers. Take a look at some of the wonderful additional features:
Agitator
Presoak & quick Wash
Auto, Medium, High, and Max Fill water level options
Extra rinse options
Built-In faucet for pretreating and rinsing
Glass lid that you can see through
Stainless steel drum
Good reviews
MAYTAG Smart Capable Top Load Washer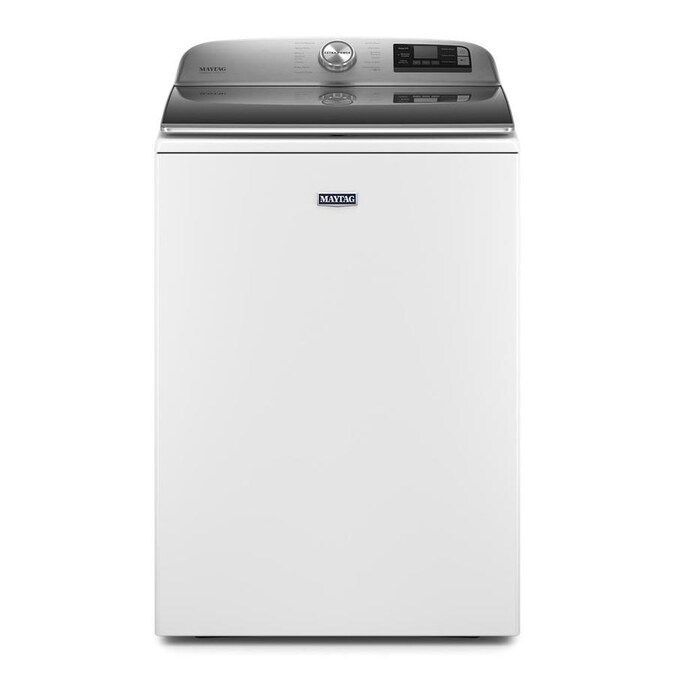 The Smart Capable Top Load Washer With Extra Power Button 4.7 Cu Ft is another excellent choice in the top loader category. This American made washer also has an agitator that will get the tough job of cleaning dirty diapers done. It has all of the features you will want in a cloth diaper washing machine including:
A quick wash cycle to pre-wash your diapers
Auto, Medium, High, and Max Fill water level options
Extra rinse options
Slow-close glass lid that you can see through
Stainless steel drum
Good reviews
What To Look For In A Washing Machine For Cloth Diapers
They key to purchasing a washer that will work great for cloth diapers is understanding what a good diaper wash routine looks like, and knowing exactly which features and options are available on the washer you choose.
So first lets examine what a good cloth diaper wash routine entails. You can read my post on how to clean cloth diapers here, but these are the basic principles you need to follow in order to get diapers clean:
Remove as much of the solids as you can before you throw the diapers into the diaper pail storage or washing machine. The best way to do this is with a diaper sprayer, such as this inexpensive Spray Pal, or you can dunk the diapers into the toilet.
Throw the diapers into the washer once you have an adequate load size. Too few diapers and you won't get enough agitation. You'll want a minimum of 12 diapers, but 18 or more would be ideal. If you need a larger load size but you don't have enough diapers you can add in towels to bulk up the load.
A pre-wash cycle with a small amount of detergent [here is some great detergent for cleaning cloth diapers] will remove the majority of the mess and ensure that your main wash cycle isn't full of soiled water. If you have the option to run it with warm water that is best.
Run a hot main wash cycle (no hotter than 130 degrees) with the normal amount of detergent.
Run an extra rinse cycle to get any excess detergent out of the diapers. If you see any bubbles or suds after rinsing you will need to keep rinsing and possibly reduce the amount of detergent you use in Step 4.
Next lets look at a list of nice features to have in a washing machine that will be used to clean cloth diapers:
Agitator – A washer with an agitator does a superior job of cleaning compared to other types of machines such as front loaders which rely solely on the friction of materials rubbing against each other.
Water Level Options – Washers that have auto-sensing water levels can cause issues with cloth diapers. It is important to be able to add plenty of water to a diaper load because cloth diapers absorb so much of the water that is needed to wash them. You want a washer that will allow you to choose your desired water level to ensure good agitation and cleaning. This is why people often have trouble with HE washers which are designed to use a very limited amount of water.
Pre-Wash, Quick-Wash or Pre-Soak Cycle – Some sort of short cycle to get the diapers relatively clean before the main wash cycle. You can always just run two regular cycles if your washer does not have this feature. Warm water is best for this step.
Extra Rinse Cycle – It's always recommended to run an extra rinse after your main wash cycle to ensure that all of the detergent is removed from the diapers. If any detergent is left in the diapers it can cause rash issues. If there are any suds or bubbles in the diapers or drum after your wash routine is complete, then you did not get all of the detergent out of the fabric and you should run another rinse.
No-Lock Lid – These are nice if you need to peak into the drum to make sure everything is agitating properly or if you want to throw something extra in during the cycle.
If you are feeling discouraged by this post because you do not want or cannot get a top-loader, don't be, you can get cloth diapers clean with front loaders and HE machines, but the purpose of this post is to recommend THE BEST washing machines for cloth, and top-loaders do work best. However, plenty of people use other types of machines with great success, there may just be a little more trail and error in figuring out a good wash routine.
If you need help with this I would encourage you to join some cloth diapering groups on Facebook because there are tons of families out there who can help you. I have seen many people just share a picture of their particular washer and post it to the group asking for a "custom wash routine". There are plenty of tips and tricks out there to help you get your fluff stash squeaky clean!